This recipe is adapted from the Living Without recipe here.
1 cup sorghum flour
1/2 cup chickpea flour
1/2 cup almond meal or additional flour
1 cup rice flour
1 cup cornstarch or tapioca starch/flour
1 1/2 teaspoons salt
4 teaspoons yeast
1/4 cup sugar
1 cup warm milk of choice or water
2 eggs (really 3 if you count the egg for the egg wash)
8 tablespoons butter, margarine melted
12 tablespoons cold butter or margarine cut into small pieces
1/2 cup fruit spread, warm, optional
Here is what I added:
cinnamon sugar
chocolate chips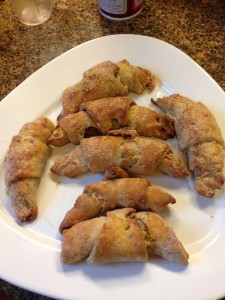 1. Combine first seven ingredients and blend well.
2. Scoop 1 cup of this flour mixture into a medium mixing bowl. Add yeast and sugar to this cup of flour mixture and blend thoroughly. Combine milk and eggs and add them to this mixture. Add melted butter and beat until smooth. Reserve.
3. In a separate bowl, cut cold butter into remaining flour mixture until butter pieces are the size of large peas. Pour liquid batter and stir or beat until moistened throughout. Cover and refrigerate for 4 hours or overnight.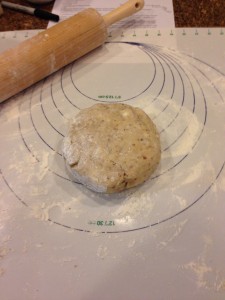 4. Remove dough from refrigerator and press into a compact ball on a surface that has been lightly covered with rice flour. Divide dough into 3 equal parts. Roll each third into a 12-inch circle with a rolling pin. Cut each circle into 8 pie-shaped wedges.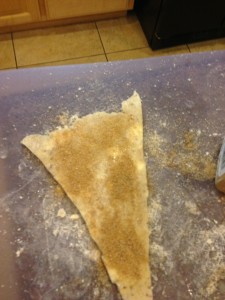 5. Separate wedges and roll out each wedge through the length of the piece so that it is about 1/8th inch thick. Brush each wedge with warmed fruit spread if desired. Then roll up each wedge toward the point. Shape into a crescent by curving the edges.
6. Set croissants on an ungreased baking sheet or sheet lined with parchment paper. Cover with plastic and let them rise at room temperature until doubled. (This may take 2 hours if the room is cool).
7. Preheat oven to 400 degrees. Brush each croissant wedge with egg beaten with cold water (this is called egg wash 1 egg combined with 2 Tbsp of cold water). Place croissants in preheated oven and immediately lower oven temperature to 350 degrees. Bake 15 to 20 minutes or until golden.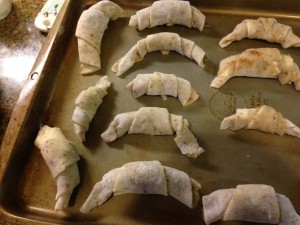 At step 5, instead of the fruit spread, I brushed melted butter, then sprinkled cinnamon sugar and added a few pieces of chocolate chips. Some, I only did the cinnamon sugar and once rolled up, brushed with butter again and sprinkled more cinnamon sugar.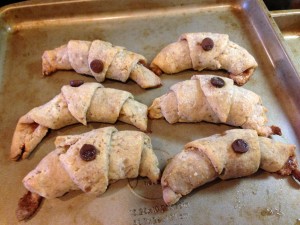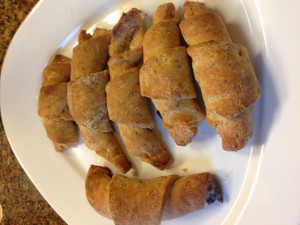 This was my second time making these. The first time, I waited the 2 hours and my croissants did NOT double. Don't know what I did wrong. This time, I was too IMPATIENT to wait 2 hours.  I will follow through next time.
Regardless, I think they tasted delicious.
I am sharing this recipe on Gluten Free Wednesdays.