I mentioned last week in my post My Kids' Recipe Challenge that we would be taking recipes and making them gluten free. This weekend we made A Frozen Brownie Sundae. The original recipe came from Pillsbury Kid Cookbook. It calls for:
The only ingredient that we had to substitute was the brownie mix. I used the Betty Crocker Gluten Free Brownie Mix
for our brownie.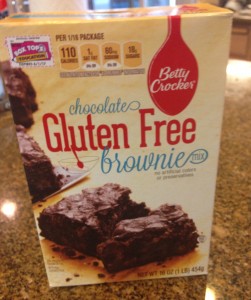 Basically you make the brownie as directed in the box.
Cool the brownie on wire rack. Return to pan.
Top with soft ice cream (any flavor really)
Freeze for 8 hours plus
Cut out individual squares and top with fudge and a candy.
Next time I make the brownie sundae I will attempt to make my own brownies from scratch. I want to incorporate the Sneaky Chef into my brownies too. (see this post about Sneaky Chef)
Here is the picture of our creation: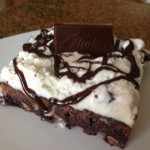 The Reviews: Awesome! They couldn't get enough. My son kept saying he wanted more.
I am sharing this recipe on Gluten Free Wednesdays