I modified Marathon Mom's Blueberry Muffins to fit our gluten free diet. I am doing her  42 Days of Fitness which includes delicious recipes, but because of our family's needs I had to modify. I love blueberry muffins so I am excited  that I was able to modify these to be gluten free blueberry muffins!
I only added Xanthum Gum, a dash of vanilla, and 2T of flaxseed. I used Trader Joe's Gluten Free Flour instead of the regular flour. I was very happy with the results. I did put aside about a cup of batter and put chocolate chips instead of blueberries for my Buddy. He ate it all up.
Here is the recipe with my modifications:
Gluten Free Blueberry Muffins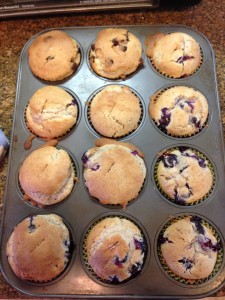 1/2 cup real butter, softened (unsalted for best results)
1 1/4 cup sugar
2 eggs, beaten
1/2 cup milk
2 cups gluten free flour
2 teaspoons baking soda
1/2 teaspoon salt
1 teaspoon cinnamon
1/4 teaspoon nutmeg
1/2 teaspoon Xanthum Gum
dash of vanilla
2 tablespoon flax
1 1/2 cup fresh or frozen blueberries or in my case some chocolate chips too!
2 tablespoons sugar for topping (optional)
Instructions:
 In mixing bowl, cream together butter and sugar.
Add egg and mix well.
Stir in milk.
Add dry ingredients and stir.
Fold in blueberries.
Fill greased muffin pans 1/2 way to 2/3 way full, depending on what size muffin you want. Also, use cupcake liners if you wish.
Sprinkle tops with a little sugar.
Bake on 375 degrees for 15 minutes or until lightly browned.
Addendum: I didn't have Trader Joe's flour the other day and I wanted to make some muffins so I used Bob's Red Mill All-Purpose Gluten-Free Baking Flour
 and they came out quite good. I actually think I liked these better!
I am sharing this recipe on Gluten Free Wednesdays