I am posting Gluten Free Crockpot Meals that I try out for the first time. Here is last weeks post for Broccoli Beef. This week I tried a chicken dish. My goal is to get 5-6 Crockpot meals that I can rotate throughout the month. So here is the recipe: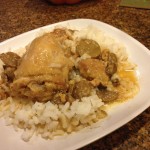 6-8 Chicken Thighs
1/2 c. Dijon Mustard
1/4 c. maple syrup
1T Rice Wine Vinegar
1 can sliced mushrooms, drained
1 onion (I didn't use)
Spray crockpot with non-stick cooking spray.
Put chicken in crockpot
Mix first 3 ingredients (after chicken) and pour over chicken
Add mushrooms and onions
Cook on low for 6 hours.
I found this recipe at Who Needs a Cape
I am sharing this recipe on Gluten Free Wednesdays.
Ligia