This recipe is naturally gluten free as long as you use gluten free products. I've been rounding up crockpot recipes and wanted to share another favorite find. This is from an old Taste of Home recipe card: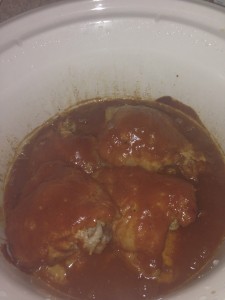 9 bone-in chicken thighs
1/2 t. salt
1/4 t. pepper
1 1/2 c. barbecue sauce ( I use Bull's Eye or K.C. Masterpiece)
1/2 c. honey
2 t. prepared mustard (Grey Poupon?)
2 t. Worcestershire sauce
1/8 to 1/2 t. hot pepper sauce (I don't add this)
1. Sprinkle chicken with salt and pepper. Place on a broiler pan. Broil 4-5 inches from the heat for 3-4 minutes on each side or until lightly browned. Transfer to a crockpot.
2. Meanwhile, combine all other ingredients and pour over chicken once in the crockpot. Cover and cook on low for 4-5 hours or until meat is tender.
We like it with rice or potatoes. The kids like it so I'm happy.
I am sharing this recipe on Gluten Free Wednesdays.
Ligia