Each year, I try to find a unique gift to give family and friends at Christmas time. I love to make homemade gifts. I don't know any better way to show my love and appreciation than by giving of my time, my talent and my money all in one.
This year I made several unique gifts and here is the first one: Peppermint Bath Salts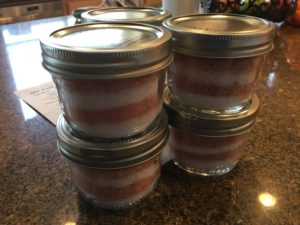 I did not come up with it myself so I need to give credit to Suburban Simplicity.
I doubled the recipe to create these 6 1/2 Pint Wide Mouth Jars.
Here is the recipe:
4 Cups Epsom Salt
1 cup sea salt
1 cup baking soda
20-30 drops of peppermint oil
8-12 drops of food coloring
I got my peppermint on Amazon. Here is the link: Sun Essential Oils.
The jars I got at Walmart. Here they are on Amazon: Jarden Home Brand
Combine first three ingredients in a large bowl.
Add peppermint and stir or whisk to distribute throughout the mixture.
Divide in half into separate bowls. Add the food coloring to one of the bowls.
Layer bath salts in the jars. It took about three tablespoons, maybe a little less since I had small jars. Press down and add the next layer and so one until you are done.
I plan to make some for myself (minus the food coloring) to use for foot soaks.  My daughter gets ingrown toe nails a lot so I am hoping this will bring her relief.
Ligia