Our story is a story of divine intervention. I was told over and over again by nurses and doctors how lucky we were. How can we be lucky to find out our 7 year old was diabetic? Because I didn't find her passed out from a diabetic coma. My child did not become violently ill from ketoacidosis. No, I took my daughter in to see our family doctor because she had an ear ache that wouldn't go away.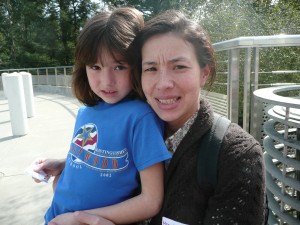 KD's ear ache had lasted more than a few days. Even though she was taking antibiotics, she was not feeling better and her fever was not coming down. After a few days of KD not really eating or drinking much, I was afraid she was dehydrated so I brought her back in to see if she needed fluids and to get a stronger antibiotic. The doctor was surprised to find sugar in her urine. He asked if he could do a blood glucose test. I watched them poke her finger, something I had never seen done, and the number show 250. Now, I really had no idea what that meant. I didn't know what a regular blood sugar was. As gently as he could, our  doctor said he thought KD was diabetic. When he instructed me to take her to the emergency room I was confused. Very confused, how could he think she was diabetic from this mere finger poke. I was thinking it was a mistake.
I took my time getting to the emergency room. They did an A1C test, a test that measures a person's average blood glucose level over the past 2 to 3 months, which confirmed their suspicions. They said she probably had been diabetic now for three months. At this point, I was still confused. How could this be? What in the world were they talking about? She was fine. She had an ear ache, not diabetes. Then, the unthinkable happened, they told me they were sending us in an ambulance to Oakland Children's Hospital.
I really thought everyone was overreacting. We were going to show up at Children's and they were going to send us straight back home. I just didn't get it. My daughter was fine! I hesitated to agree. At first I offered to drive myself, but they insisted.
If I was confused, you can image my daughter. She was very confused. I couldn't even explain to her what diabetes was. All I knew was no sugar ever and amputated body parts. That was what I knew because the only diabetics I knew had lost body parts. I even told her she would never be able to eat sugar again. It was a horrible, horrible diagnosis. I was horribly, horribly misinformed.
For the next two days, my husband and I were introduced to the world of diabetes. We had to learn how to do injections,  count carbohydrates, and how to detect high blood sugars and low blood sugars. We had to figure it all out before we could take KD home. All my misconceptions of diabetes were corrected and I was so relieved to find out that with proper care my little girl would be just fine.
So here is the incredible part: The nurses and doctors that visited told us we were lucky. Most children with diabetes ended up in the hospital  with Ketoacidosis. This is a serious condition that can lead to diabetic coma (passing out for a long time) or even death. When  cells don't get the glucose they need for energy, the body begins to burn fat for energy, which produces ketones. Ketones are acids that build up in the blood and appear in the urine when the body doesn't have enough insulin.  High levels of ketones can poison the body. When levels get too high, it develops diabetic ketoacidosis, or DKA. (American Diabetes Association). KD's blood sugar was a mere 250. Children with ketoacidosis had high blood sugars like 800 or more. Yes, this was a miracle.
But how could we have not known? In retrospect, there were signs but I just didn't know they were signs. For example:
Prior to this happening I was finding juice boxes all over my house. I couldn't figure out what was going on.
Her 2nd grade teacher had told me at our conference that KD was tired after lunch and had a hard time focusing.
And the big one, a few weeks before she had cut her finger and the infection had spread down past her wrist.
How were those signs? One of the early signs is excessive thirst. Second, her blood sugar was probably very elevated after lunch and being tired or unfocused in a sign of hyperglycemia, third diabetes is an auto-immune disease so in both cases with finger cut and the ear infection, her body was having a hard time healing.
Its been almost 5 years since that March in 2008. It's been a journey, sometimes overwhelming. There is always something new to learn. There is always a bump in the road. If I have learned anything it is that when you think you have diabetes all figure out it sends you a curve ball.
As you can imagine having a diabetic child and a child with celiac disease is a challenge. Everything I have gone through and continue to go through, I have done with God's grace and mercy. He has given me the strength and ability to cope with these two very different and somewhat complicated disease.
I have been able to help so many people that are just starting out their journey and I consider it a blessing to be able to do that.
Ligia