I haven't shared recipes lately, but this paleo brownie muffin recipe was a must share. I found it on pinterest, of course. It's a yummy, easy-to-make dessert brownie made out of garbanzo beans. Yes, that is right. Garbanzo beans.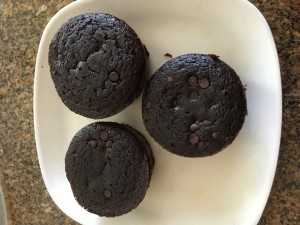 1 can 15oz chickpeas (garbanzo beans) drained, rinsed
3 eggs
1/2 cup pure maple syrup
1/3 cup unsweetened cocoa powder
1 tsp baking soda
3 Tbsp coconut oil, melted
1 tsp vanilla extract
1/3 cup chocolate chips (we use Enjoy Life semi sweet)
Preheat oven to 350 degrees.
Prepare 12 muffin cups with liners or by spraying with cooking spray.
Put all ingredients, except the chocolate chips, in blender or food processor.
Blend until smooth.
Divide batter in muffin pan.
Top with chocolate chips.
Bake for 18-20 minutes or until toothpick comes out clean. Ours took more like 22 minutes
Amazing! These will definitely become a staple at home.
Thanks to Beachbody for this recipe!
Ligia