One of my biggest problems I face is creating a working cleaning schedule. For a long time I did the Flylady method which includes: routines, daily cleaning and zone cleaning. This system really worked for me until I moved to a bigger house and then it became hard to keep up with all the zones and daily cleaning. That was 5 years ago!!!!
So since then I struggled to figure out what works for me.
I have tried cleaning calendars like this one: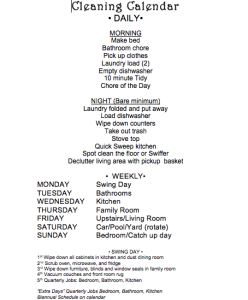 I did the Morning and Evening routine okay, but the Weekly fell through the cracks and so did the other Extra Days etc.
Next I tried a weekly cleaning calendar. I started with just my bathroom chore. I decided I rather do a little every day instead of trying to clean the whole bathroom in one day. Then I started thinking, why can't I do that with all my chores? I can do a little a day in each room/section so then I created the A/B schedule.
I started using this method about 2 months before reading this book, but to my delight, Simplify you Life reaffirmed what I was doing. Other than a Morning and Evening Pickup, author Ramsland suggests creating a weekly cleaning schedule similar to what I did.  It's not perfect, and often it does not all get done but it has been really working so far.
I am sharing my schedule here: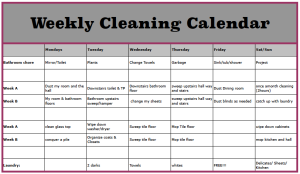 Another cleaning suggestion that I really like is the Clean Up Clutter Project. This is the cleaning that you can't get to every week. So things like cleaning grout, vacuuming behind the sofas etc. These can be small cleaning projects.
So I am creating a running list in my planner that will help me to get to some of those pesky projects that don't get to on a weekly basis. I will try to share more about this in another post. I'm still trying to see how this will fit into my life.
For now I am happy with what I am doing.
Ligia