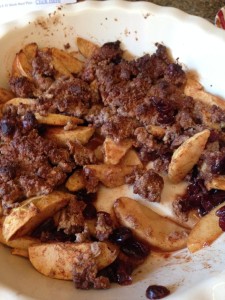 I've never been a big fan or cranberries, but when my sweet tooth is craving something and I can't have cookies or danishes, I turn to what I can have. Luckily, I found this great Paleo apple crisp recipe that has gotten me through the last month. It is so yummy.
I found this recipe here.
4 apples, peeled, cored and sliced (probably the hardest part)
1/2 cup dried unsweetened cranberries
2T honey
2T orange juice
1t. cinnamon
Pinch of nutmeg (I don't have so I didn't add it)
For the crumble:
1 cup almond flour (I use Trader Joe's almond meal)
1/3 c. pecans, finely chopped
3T coconut oil, melted
2T honey
1t. cinnamon
pinch of salt.
Preheat oven to 350 degrees. In a large bowl, mix together the apples, cranberries, honey, orange juice, cinnamon, and nutmeg. Place the mixture into a pie dish.
Using the same bowl, mix together the ingredients for the crumble until combined. Spoon the crumble over the apple mixture Bake for 30-35 minutes, until bubbly and golden brown. Let cool slightly before serving.
I pretty much ate the whole thing (not in one sitting). I divided up into portions and put some in the freezer and the rest in the fridge so I can enjoy throughout the week.
I have a lot more yummy Paleo recipes to share so stay tuned!
Ligia