My first bag is ready to go!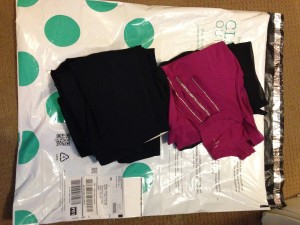 I do not have much in it, but it is all New with tags. Let's just say I have put on a few pounds….ugh. So I am sending my very best stuff to ThredUP in hopes that I will get the very best price. I can't wait to find out what I end up getting. I won't lie, I will be very disappointed if it is less than $30 bucks. I paid $70-$90 at least. All the pieces are Ann Taylor Loft or Banana Republic.
I have lots of nice used items but I am worried that they will not want it and donate it away! The whole point of this is for me to make some money to replace these items!!! I could pay $12.99 for them to return the pieces they reject, but then there goes my profit.
So I am going to do most of my selling on Tradesy.com. That will be my next post on "Selling My Stuff"
Ligia