I want to share about a wonderful tool that I found out about a while ago, but I am just getting around to using it. I wish I had done this years ago with my son who has dyslexia and dysgraphia. It's called a Mini Office.
What is a  mini office?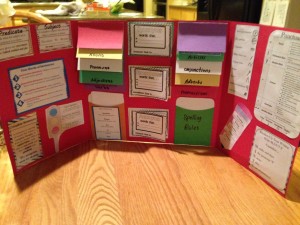 Here is what Busy Teacher's Cafe says:
Mini-offices are tools that contain information for students to use for writing, math or other subjects. 
In our case we have two mini offices: I've created a Language Arts Mini Office and together we are building a Math Mini office as we encounter new concepts.  My son has a hard time remembering what certain things are called. For example: Nouns. He can't remember if I say: what is a noun? But if I remind him, he can find all the nouns correctly. So we have an ongoing battle with "why can't you remember?". So instead of saying that I will say "Look at our office".
Here are the resources I found:
Abcteach-some are free, but you do need a subscription for some of them.
Teacherspayteachers- I got some really cool free stuff, but some of these are paid. You need to search for mini-office and specifically what you are are wanting. I searched Upper Grade Mini Offices.
Here are some freebies on Teachers Pay Teachers: