This post is dedicated to the Safeway cashier who asked me if I was making a Lemon drop cake since I was buying a cake mix and lemons. Well….I had to go find out what that was. So here I am posting about my first Gluten Free Drop Cake.
I found it on this amazing post: Lemon Drop Cake Plus A Little Frosting Secret.
There is no Lemon Cake Mix for Gluten Free peeps so I used Safeway's Eating Right Gluten Free Cake Mix. I did find the Lemon Frosting so that is good. If I had not, I might have tried using lemon juice and mixing it into a vanilla frosting.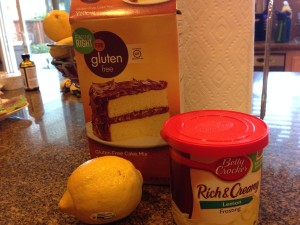 So it was fun to make this cake. I loved the frosting secret. (Please see the original post for that secret).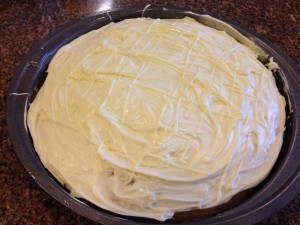 1 box Cake Mix
1 Tub Lemon Frosting
3 eggs
1/2 c. vegetable oil ( I use coconut oil)
1 1/4 c. water
2 lemons
1 c. Powdered Sugar
Preheat oven to 350 degrees.
Make the cake as directed on the box.
Pour into your greased pan. I used a round cake but you can do a 9×13. Unfortunately, I think the GF cake mix makes a smaller cake than the regular cake mix, so if you make a 9×13 it will be flat.
Now, while the cake is baking, take your fresh lemon, and squeeze enough juice to make 1/4 cup.   Mix it with the powdered sugar. This is what it will look like after.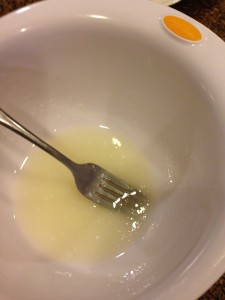 When the cake is done, let it sit on the counter for 15 minutes. With a fork, poke holes all over the cake.
Take the glaze and pour it over the cake. Then refrigerate for 2 hours. (I did mine overnight)
When the time is up, it is now time to make the frosting. To make it easier to frost, pop the whole can, minus the lid and foil, into the microwave for 20 sec. It makes it easier to frost and you can actually swirl it around. (this is a tip from the original author!) If you microwave the rest of what is left for a little longer (10-15 sec) you can "drizzle" it on the cake.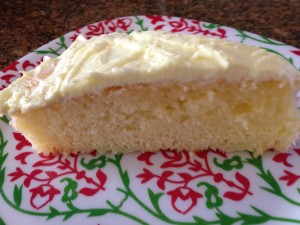 Yummy AND easy.
Ligia