I did the unthinkable…….
I took a day off to clean!
My daughter's room looked like a tornado hit, my son's room was littered with millions of little soldiers, and I needed to clean the bathroom, playroom etc. So I took a day off (gasp) to clean.
I told my kids that today was a cleaning day. My daughter does better doing a big day of cleaning. She does a really good job! She had incentive since she is getting a new Loft bed. My son gripped the whole time but we got so many old toys out of the playroom and his room.
One thing that really helps us out when we do these big clean ups, is these bins: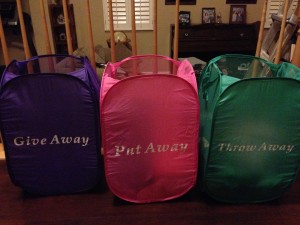 We got them from The Fly Lady Shop. I have used laundry baskets with paper labels too.
I put them outside their doors and we chuck things into the bins. I love them.
I got a chance to do some of own cleaning, but not as much since I had to help my son (he's not so motivated).
I think I need to do this every other month and just plan them into our schedule. Hey this is Home Economics! I can still count it as a day of school! Hurray!

Ligia